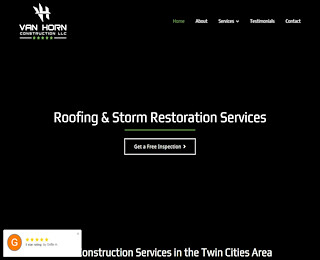 Storm Damage Roof Repair MN
Your roof is one of the crucial parts of your structure. It not only protects the inside of your home and your family, but it also protects the dwelling itself. Your roof is meant to last for many years under normal circumstances. When a major storm hits, it can cause damage to your roof, even if it was in good condition. You don't want to risk climbing up on your roof. Instead, call the experts in storm damage roof repair in MN.
What Are the Most Common Types of Roof Repairs?
Storms, wind, rain, ice, and hail can all cause damage to your roof. Branches and other debris can hit your roof and cause holes or scrapes. Wind may rip off parts of the roof such as shingles and flashings, especially if they are not in good condition. The most common storm damage roof repair in MN is likely the replacement of shingles. If several or more shingles get loose, we can replace them and make your roof look and function like new. Leaks often happen near missing or damaged flashing. We can replace the flashing and seal the area to prevent further leaks.
What to Do If You Suspect Roof Damage
You may see shingles or other roofing materials in your yard, which is an indication that your roof suffered storm damage. Other times, you may notice a leak inside your home. You should call a professional to look at the roof and provide storm damage roof repair in MN. At Van Horn Construction, we have the tools and equipment to view the roof, evaluate the damage, and provide you with an estimate for repairs. Don't attempt to climb onto the roof because you can easily fall without the proper safety equipment.
Do You Need to Replace the Roof?
In many cases, we can provide storm damage roof repair in MN to fix the areas that have problems. Your roof will last for many years, so as long as the damage is minor, we should be able to make repairs. In some cases, the roof may suffer damage that is beyond repair. If that happens, we will explain the situation and give you options for roof replacement. We can place a tarp over the area that has damage if we can't complete the repairs immediately. We can work with your insurance company to resolve claims.
About Van Horn Construction
At Van Horn Construction, we offer complete storm damage roof repair in MN. We have more than 15 years of experience providing high-quality services to our customers. We can handle any job, large or small. We pride ourselves on delivering remarkable customer service and quality workmanship. You can trust that we will complete the job with professionalism and efficiency. You can read many of our five-star reviews from our happy customers. We provide all types of construction services to residents in the Twin Cities. If you have storm damage on your roof, call Van Horn Construction for high-quality repair and replacement services.
Storm Damage Roof Repair Mn
Van Horn Construction LLC
612-756-7080
2500 E. Medicine Lake Blvd
Plymouth
MN
55441
View Larger Map