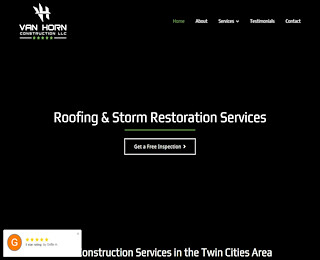 If you need a roofing contractor in MN, look no further than Van Horn Construction LLC. Our company has a BBB rating of A+, and owner Silas Van Horn is dedicated to providing the best possible customer service.
What are the differences between a roofer, roofing company, and a roofing contractor?
Roofer: A roofer is someone who works on roofs. Not all roofers are licensed, nor are they all roofing contractors, or general contractors. You will need clarification to identify their position, title, insurance,  and licenses.
Roofing Company: A roofing company specializes in roofs. They will have a crew consisting of licensed roofers.
Roofing Contractor: A roofing contractor has a license with the state as a contractor that specializes in roofs. The contractor may hire subcontractors to carry out the work or do the work himself/herself. A roofing company might employ a roofing contractor.
How do I hire a roofing contractor in MN?
Questions to ask a potential roofing contractor:
Do you carry general liability insurance?
Are you licensed?
Do you carry workman's comp insurance?
Will you remove my old roof?
Do you use ladder stabilizers or standoffs to protect my gutters?
Will you haul away all refuse, and where will you place the container?
What happens when the weather doesn't cooperate during the job? Do you have a plan?
What is the warranty on my roof?
Will there be someone I can talk to if I need to?
Do you provide a written estimate and contract?
Do you have a local number and address?
The answers to the above questions should be YES. You should talk to your friends, relatives, neighbors, and co-workers and see if they have any recommendations. Being prepared with questions to ask a roofing contractor is essential. 
What should a roofing contract contain?
Two of the most common remodeling projects are roof repair and roof replacement. Your roof offers protection to you and your home. Your home is a significant investment, and a good, solid roof helps protect it. You must make sure you hire a reputable roofing company or roofing contractor in MN. Your contract needs to cover the following items:
Detailed Project Description: This specifies all details, materials, (brand, price, type, color) and a start and completion date. It needs to include refuse removal details, roof removal, replacement of any soft spots, and cost of everything, itemized.
Payment terms: How much before the project, during the project and the balance on completion.
Insurance and license details: Make sure your roofing contractor has ALL insurances, workman's comp, public liability, roofer's license, contact details, and any other licensed required by your state.
Warranty: You should receive a manufactures warranty and a warranty from your contractor.
Provisions for unforeseen circumstances: Mold, extra material, or anything else that might need to be replaced.
Option to terminate: Your contract should have explicit terms on how, when, and why you can end your contract with them. If you terminate the contract, what if any liability will you have?
For a great roofing contractor in MN call Van Horn Construction LLC.
Roofing Contractor Mn
Van Horn Construction LLC
612-756-7080
2500 E. Medicine Lake Blvd
Plymouth
MN
55441
View Larger Map