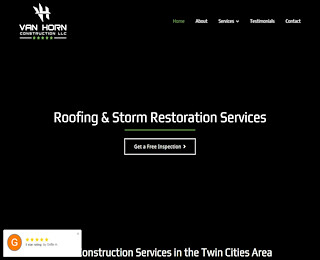 Whether you have roof damage from a storm or need a replacement, you can count on the expert services of Van Horn Construction. We are a leading roofing company in MN, serving the entire Twin Cities area. We provide complete roofing services, including maintenance, repairs, and installations.
Does My MN Roof Need Repairs?
Most residential roofs are made to last for years. As time goes by, your MN roof may need some repairs to keep it functioning correctly. Shingles and other roofing materials might loosen over time or due to a storm. A professional roofing company in MN will inspect your roof and provide you with an estimate for repairs. You may need to call for repair service is you see shingles, nails, or other materials that came off the roof. It is best to leave the roof inspection to the professionals because we have the safety gear to get onto the roof. In many cases, we can fix your roof so it will provide you with many more years of service.
Roofing Services We Provide
At Van Horn Construction, we provide complete residential roofing services. It is best to get regular inspections from a reputable roofing company in MN. When you take care of your roof, it will perform better and last longer. We will evaluate the roof and give you our recommendations for repairs that are needed. For instance, if we notice any loose shingles or flashings that are not appropriately secured, we can quickly fix the problems before they worsen and cause damage to the structure. If damages were caused by weather, your homeowner's insurance might cover the repair costs.
Do I Need a Roof Replacement?
In some cases, your MN roof has reached the end of its life, and you will need a replacement. We will give you an estimate for a new roof based on your specific needs and preferences. Generally, you might want to consider a new roof when you continually need to call for repairs, and the repairs are more challenging to perform. You can choose the materials and colors that will look best on your home. Our MN roofing company will explain the details to you so you can make a good decision. A new roof will give you years of wear and will add value to your home.
Call for a Free Inspection
Whether you just purchased your home or you notice roof damage, we can provide a free roof inspection. Getting a roof inspection can save you money because we can find and fix problems before you need to replace the entire roof. As a leading roofing company in MN, we have the experience and expertise to handle any roofing job, large or small. We provide excellent customer service and use high-quality materials and workmanship to ensure that your roof looks good and functions properly. We are proud to provide you with services you can trust. When you need a roof inspection, repairs, or a roof replacement, call Van Horn Construction to get the job done efficiently and affordably.
Roofing Company Mn
Van Horn Construction LLC
612-756-7080
2500 E. Medicine Lake Blvd
Plymouth
MN
55441
View Larger Map